Ready To Retire? Successful Retirement Planning To Make The Best Of The Rest Of Your Life
By Dee Cascio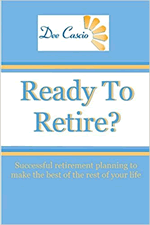 Now available in paperback! This newly updated version of Ready To Retire? has more information than ever about replacing the benefits that work provides, and the paperback format is perfect for note-taking while planning your retirement.
This book contains Dig Deeper questions and links to Retirement Resources that will help you make the best possible decisions and guide you on your retirement journey.
Are you really ready to retire?
Find out what is missing in your retirement planning before it is too late.
Explore the topics people seldom talk about
Separate retirement fact from fiction
Take a closer look at the key areas that will affect your retirement lifestyle
Identify common mistakes in retirement planning and learn how you can avoid them
Understand how best to cope with change and transition to the retirement of your dreams
Learn more about recareering and encore careers
Discover how to create your own lasting legacy
Use the Dig Deeper questions and the Retirement Resources to identify where you have planned well and where you still need to do some work before you can enjoy a truly successful retirement.
These are the same questions and resources the author, a certified Retirement Coach, uses in private and group sessions. This book can help you achieve the same result—being ready for retirement.
A must read! Written by a certified life coach, this outstanding book will be an invaluable guide and excellent resource no matter what stage of retirement you are in. This comprehensive work contains everything necessary to insure a positive transition and transform the quality of your life. [The author] has introduced real life examples based on her many years of counseling and personal experience planning her own retirement and provides numerous suggestions on successfully preparing for this life altering event. Her advice and encouragement will inspire you to become an active participant in this important phase of your life and allow you to relax and spend those retirement years filled with the spirit of joy and anticipation." —Debby
Retire ready to enjoy a new lifestyle, different experiences, and fresh opportunities to use your skills and wisdom for the good of humankind. Are you ready? If not, download your book now and start planning your perfect retirement.
Do me and yourself a favor. Start reading and make the best of the rest of your life.
Ready To Retire? Successful Retirement Planning To Make The Best Of The Rest Of Your Life
By Dee Cascio
Available in Paperback and Kindle Edition from Amazon.com
Paperback (Updated Edition)
E-Book (Kindle Edition)