Where Will You Retire?: A Retirement Guide And Exercises For Deciding Where To Retire, Buy A Second Home, Or Relocate
By Dee Cascio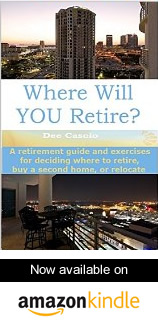 Is there a move in your future? Improve the odds of picking your perfect home by using the tools in this book.
Start your quest immediately. Skip the books full of generic wisdom or retirement misinformation and actually walk through the home-selection process with the author.
Use the thought-provoking questions to identify your likes and dislikes
Complete the exercises to fine-tune your hopes and dreams for your next home
Take note of yours and your spouse's answers to keep track of what different properties have to offer so you can make the best possible home-buying or rental property decision
This book is for anyone who wants to make the best possible choice about a new residence or second home. It is written by a certified retirement coach and recareer coach with years of experience working with clients at all stages of life, not just those at or nearing retirement. These exercises have helped people facing:
Relocation
A career move
Buying a second home
Downsizing
Accessibility issues
Choosing a place for aging loved ones
Use this book to:
Find an easy way to narrow down your geographic considerations
Learn how to make a fool-proof house hunting plan
Discover a property secret that can save you thousands of dollars
Explore your must-haves for any property decision
Uncover the keys to spotting the perfect house in the perfect neighborhood
Clearly communicate your housing wish list to your realtor and others helping you in your housing search
Start using the same exercises the author developed for client sessions and live seminars and be on your way to finding your perfect home TODAY.
To let you know I have your book Where Will You Retire on my Kindle.  I will refer to it in the near future as I make my life change. The exercises are very helpful and I find after 'running' through them at this time, I am already narrowing my choices.  I had my Kindle with me and went through a couple of the exercises with a friend this past weekend. She emailed me later that her answers got her to thinking about the type of place she'd like to move to. I sent her a copy also." —D.A.
Where Will You Retire?: A Retirement Guide And Exercises For Deciding Where To Retire, Buy A Second Home, Or Relocate
By Dee Cascio
Available in Kindle Edition from Amazon.com
Price:  $4.99